Sunday is International Women's Day. At MATTER, we're privileged to work with some of the most inspiring, dedicated, and accomplished women from around the world. On MATTER's Board of Directors sits one of these amazing women, Chipo Mtasa. A successful businesswoman and passionate humanitarian, Chipo's life is dedicated to helping others and improving life in her home country of Zimbabwe.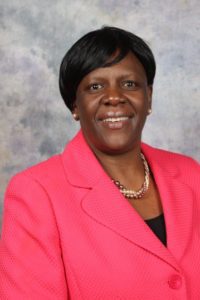 Born in a rural district, Chipo attended a United Methodist Church Mission school where her parents were teachers. Though not rich in material wealth, Chipo's family was rich in the values and traditions that provided her with a happy and grounded childhood. Education was respected and pursued, opening doors of opportunity for Chipo that most of her peers, especially girls, were never able to realize. After high school, Chipo went on to earn an honor's degree in accounting from the University of Zimbabwe, as well as Executive Management Development from the Wharton Business School in the United States. Recently, she was awarded an Honorary Doctor of Philosophy degree in Business Management by the Women's University in Africa.
In addition to being Managing Director of TelOne Pvt Ltd., Chipo also sits on the boards of several non-profit organizations including MATTER and Angel of Hope Foundation, founded by Zimbabwe's First Lady. Chipo and her husband, Oliver, have raised five children and have one granddaughter, Samantha.
We recently asked Chipo to share how she became one of the most successful women in her country.
Who were some of your mentors early on in your life and career and how did they help you?
My father was my mentor, I spent a lot of time with him and I would admire his resilience and determination in life. He is an upright man who has managed to send all his children to school despite his meager income. As well, he is a loving and exemplary husband.
My mother remains my mentor because she is a strong-willed woman, very practical and balanced in her life. She is a powerhouse! I look up to my mum as she always has some kind of foresight that is very grounded. She talks to everybody; she brings people together. My mum still takes care of her house even at 83. She still irons and cooks, constantly on her feet. Even now I can never seem to be able to do half the things she does in the home!
What have been some of the obstacles you've faced as a woman in the workplace?
I must say transforming men into allies in the workplace is not an easy task but can be done! Some men naturally view women as inferior to them and that becomes a problem. This stems from the fact that Zimbabwe has been largely a patriarchal society.
The business world is male-dominated, more so in the Technology field which remains a male-dominated industry, therefore you constantly have to show that you are competing on the same level with men despite the fact that one is wearing a skirt.
I was fortunate that I was raised by a very supportive father. This has helped me to conquer challenges I face with men. My brothers also made it easy for me over time with their support. However, the biggest support and encouragement that I get is from my husband. He has always been there to encourage me and hold my hand when it became difficult.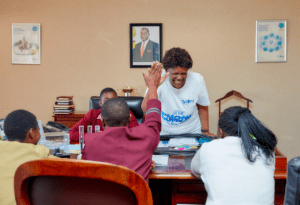 What motivates you in the work you do?
Growing up in the rural setting of Zimbabwe left a mark on my life as it showed me the other side of life of the less privileged in society. The values that my parents instilled in me of respect, integrity, passion and hard work contribute to how I live my life and define who I am. I enjoy the fruits of hard work and that inspires me to take on new challenges.
What accomplishments are you most proud of thus far and why?
I am proud to be involved in humanitarian work. I am passionate about helping the needy and the less privileged in society. I also mentor young girls and women in different spheres of my life from business to church and our extended family circle. Knowing that I have positively impacted someone's life keeps me going.
In my view, a woman who has been well mentored will have a sense of direction, a sense of purpose and a clearer vision about her life more than one who has not been mentored. A girl or woman who is mentored is empowered to take control of her life, she knows her personal value and self-worth and that makes me very proud.
One of my mentees, Zimbabwe's youngest graduate who at just 14 years managed to get into University in spite of her poor background, has recently qualified as a Chartered Accountant with Deloitte and this inspires me so much.
What advice do you have for young women on how they can achieve their goals and dreams in their personal and professional lives?
Never stop learning, always be humble and always work hard. I like the definition of success by Paul J. Meyer where he says "Success is the progressive realization of predetermined worthwhile goals," Have goals and a vision for your life and personally set out to achieve them.
The journey through life is always progressive, never give up. Remain grounded in your values. I am a product of persistence, hard work and good mentorship spiced with some luck. You can be also. Keep moving forward!