Earlier this year, we introduced you to Mrs. Stella Fundira who lives in Zimbabwe. She was one of the first women in her country to plant Chaya trees in her garden several years ago. It was a game-changer for her and her family. "As a retired person, I have depended mainly on the help I would get from my children. They would take turns to help me with food money. With my Chaya trees, I do not need to have my children, who are also struggling during this pandemic, buy me vegetables. Actually, my Chaya plants produce more than enough vegetables for my household."
For a year now we've been telling you about the amazing Chaya tree. Its leaves are among the most nutritious vegetables on earth. It grows quickly and in all kinds of climates, even in drought conditions. It's insect and disease resistant, and its leaves can be harvested within months of planting. In short, this amazing plant is nature's best-kept secret to fighting malnutrition and improving health outcomes in some of the most difficult places on earth.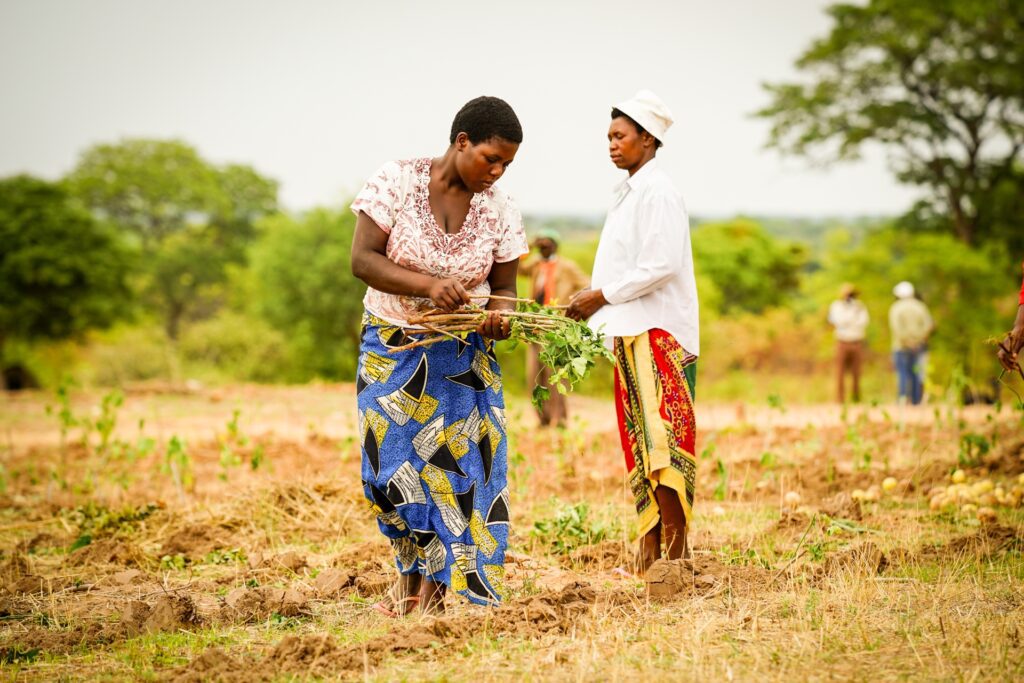 When our dear friend and supporter, Sandi Young, learned about the benefits of Chaya, she led a campaign to plant this nutritious tree throughout Zimbabwe, a country where 650,000 children are suffering from chronic malnutrition. We asked our supporters to help fund this campaign and your response was incredible. Thanks to your generous support, 75,000 of these life-giving trees have been planted across Zimbabwe!
Now it's time for phase two of the Chaya Tree Campaign. In 2022, we aim to create an even deeper and wider impact on the country's health through strategic partnerships with 20 women's farm co-ops, empowering 400 women farmers to reap the health and economic benefits that will come from growing this amazing superfood.
Women are the backbone of the family in Zimbabwe. One of their primary responsibilities is to grow vegetables for their families. A woman who cannot grow enough food to feed her family is looked down upon and may even be treated as an outcast in the community. It's a heavy burden made even more difficult with frequent droughts that dry up the earth and shrivel their produce, leaving the women to scratch together their meager savings to buy what little they can afford.
We want to help lift the burden these women face by introducing them to the easy-to-grow and highly nutritious Chaya. Working with these rural farm co-ops, we'll supply the women with Chaya plantings and cuttings, install fencing, and provide the tools and training to grow Chaya and incorporate it into their families' diets. Not only will this increase the health of their families, but it will also create opportunities for the women to earn extra income as they can sell their surplus to local partners. In short, it will empower women and feed families!
Silent Kaseke, who manages MATTER's nutrition gardens in Zimbabwe will also help oversee this initiative. He knows well the determination and perseverance the women in his country have to care for their families. He also knows what a game-changer Chaya will be for them. "The women will enjoy growing Chaya because it is inexpensive and requires less attention and labor than the other vegetables they grow. This is a long-lasting sustainable solution to hunger and will aid the general nutrition in communities. It will go a long way in improving health across my country."
Once again, we're asking for your generous support to help us provide Chaya cuttings and plantings to these women's farm co-ops. When you donate to this project, you'll receive your very own Chaya cuttings! We'll send growing instructions and recipes along with two cuttings – one to grow for yourself and one to share with a friend.
During this season of giving, please help us give the gift of Chaya to the people of Zimbabwe. It truly is the gift that keeps on giving! To learn more about how you can join with us to empower women and feed families, visit the Chaya Tree Campaign.