Construction on the Community Cares MATTERhouse is well underway! Last spring, we shared an update about this exciting initiative focused on raising funds for MATTER and Community Cares, a Minnesota food bank that supplies local food shelves in the Minneapolis area with fresh and healthy foods. Since ground breaking on June 28, the home is all enclosed, the interior sheet rocked and the exterior awaiting siding!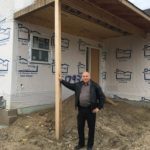 The Community Cares MATTERhouse came together as a collaborative effort between Heartland Homes and McDonald Construction, under the coordination of Joe Miller. These builders, along with their subcontractors and suppliers, donate a portion of their labor and/or materials to increase the profit from the sale of the home. The proceeds from the sale will allow both Community Cares and MATTER to continue the work of eliminating barriers to healthy eating in the Twin Cities.
Construction of the house remains on schedule, but with winter setting in, there is a high sense of urgency to get the furnace installed and finish up the outside projects. Mike Heinzerling of Heartland Homes was cautiously optimistic, "Things are progressing as long as the weather will cooperate!"
Located in the growing suburb of Farmington, this four-bedroom, 2.5 bath family home will include many luxury features such as Cambria countertops in the kitchen and bathrooms, as well as custom cabinetry by Schwieters Companies, all generously donated by the two companies.
Cambria and Schwieters Companies are well respected in the Twin Cities for their efforts to support and give back to the communities in which they work. Briana Goodreau of Schwieters explained the reason they partnered with MATTER on this project,
"Schwieters Companies is pleased to contribute our cabinetry to the MATTERhouse. We admire your organization's work in the community and value the opportunity to be involved in this project. We look forward to seeing your progress in the future as you continue to make a difference in the lives of many people."
The Community Cares MATTERhouse would not have been possible without the generosity of the many individuals and companies, in addition to those already mentioned, that have donated their time and/or materials to the project, including City View Electric for their donation of electrical supplies.
We're excited to see the Community Cares MATTERhouse move towards completion. With its sale in 2019, MATTER and Community Cares will be able to help more people across the Twin Cities have access to healthy food. Thank you to all who are involved in the building of this home. Your efforts will contribute to the building of healthier lives and a healthier community!