Minnesota Timberwolves Head Coach Ryan Saunders smiles into the camera as he begins a video message to the Boys and Girls Clubs of the Twin Cities (BGCTC). His wife Hayley sits next to him on the couch, their young son fidgeting in her lap. Behind them a wall of basketballs and what looks to be an old team photo – just what you'd imagine in the home of a professional basketball coach.
"To all the youth and families of the Boys and Girls Clubs, hope everyone is safe and healthy during this time. My wife Hayley and I are here at home with our son Lucas social distancing and really wanting to support the great work of the Boys and Girls Clubs, a place that was so good to me growing up…"
Like so many around the world, the Saunders family is staying at home to help stop the spread of the virus. But that isn't stopping them from continuing with their charity work. If anything, the current situation has given them even more motivation to help our community. With the growing food insecurity that many children and families are facing during this time, the Saunders family connected with MATTER to make a donation that will provide thousands of healthy MATTERbox snack packs to BGCTC.
Hayley explains why they chose BGCTC, "We so appreciate your efforts in ensuring youth and families have access to healthy meals and support needed during this time. And that's why we partnered with MATTER to provide 10,000 healthy snack packs for your Clubs."  
As a key resource for Minnesota children and families, BGCTC is on the frontlines helping families navigate the current crisis. Shannon Mattson, Vice President of Development and Communications explained how crucial their work is, especially in a time such as this.
"Although our Clubs are currently closed for youth programming in accordance with state guidance for the COVID-19 response plan, we have a responsibility during this time to increase supports for our families as they now face additional challenges. Evolving data shows the COVID-19 outbreak will have disproportionate health and economic impacts on the communities we serve. School closures, work disruptions, and quarantines strike hard at individuals and families who already lack resources and access to services."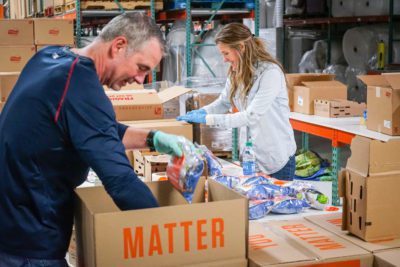 MATTER is thrilled to help Ryan and Hayley Saunders support an organization so close to their hearts and one doing such important work in our community. In order to get the 10,000 snack packs to BGCTC as quickly as possible, we set up multiple packing lines in our warehouse, being careful to observe the COVID-19 safety protocols. When the call went out to our volunteers to help pack, many agreed without the slightest hesitation. As one of our volunteers said,
"This is a time to really pull together to help others who are struggling. I'm glad I can be here in a safe environment doing something significant to help families get through this."
In this time of great uncertainty, we can be thankful that compassion, kindness, and generosity are shining brighter than ever. Like the Saunders family and our selfless volunteers, people across our country are rising to the challenges that lay before us, eager to help those most affected by the pandemic. For BGCTC, this community support is vital and truly appreciated.
"Right now, as always, this is about our kids and families and making sure that we continue supporting them whether we have a brick and mortar space or not. And the community is really rallying and showing that they are willing to step in and walk alongside us during this challenging time…We are truly grateful to Coach Saunders and his wife Hayley and everyone at MATTER."  – Shannon Mattson, BGCTC
Speaking of Coach Saunders, he ended the video with these encouraging words that we all need to hear and take to heart:
"Let's continue to lift each other up and support one another. We are all one team. We appreciate you all."
Watch Coach Ryan and Hayley's video to hear their inspirational message below: