Since 2006, the Bayat Foundation, Afghanistan's largest humanitarian organization, has been on a mission to rebuild Afghanistan by bringing hope and support to those marginalized and most at-risk in their country. A variety of initiatives aimed at women and families, including women's healthcare and empowerment, seek to improve the quality of life and restore the dignity of Afghan women. 
MATTER is honored to partner with the Bayat Foundation in this worthy cause. To date, the Bayat Foundation, in collaboration with MATTER, has built or refurbished 13 hospitals, impacting over two million people and advancing healthcare in Afghanistan. 
In 2018, ground broke on the newest collaborative project, a four-floor, 25,000 square-foot healthcare facility currently under construction in Kabul. When completed in 2021, the Women's and Neonatal Surgical Center will be the most modern and well-equipped medical facility in Afghanistan.
On Saturday, August 8, 2020, the Bayat Foundation, in partnership with Muslim Aid USA, will conduct a  two-hour telethon streaming live on Ariana Television Network's YouTube channel, beginning at 8 pm EST to raise funds to provide Afghan women and children with the most up-to-date and effective treatment in what will be Kabul's landmark hospital. The telethon will feature guests from influential Afghans, Afghan stars, celebrities, musicians and representatives from both organizations.  
Recently, MATTER spoke with Mariam Bayat, Director of the Bayat Foundation, about the hospital and the upcoming telethon.  
What is the current state of healthcare for women in Afghanistan?  
In Afghanistan, the crisis in reproductive health care is the leading cause of maternal mortality. Approximately 12 women die in childbirth every day in Afghanistan – one of the highest maternal mortality rates in the world. And for every woman who dies, it is estimated that 20 survive with significant injuries.  
One of these injuries, most common in Afghanistan, is Obstetric Fistula- a devastating childbirth injury caused by prolonged and obstructed labor, which leads to both physical and social harm for women. In a country, such as Afghanistan, with high rates of poverty and lack of access to decent medical care, obstetric fistula is epidemic. Nearly four in every 1,000 Afghan women are believed to suffer from obstetric fistula. 
Because of its sensitive nature, many Afghan women do not know they have serious medical conditions that can be diagnosed and cured, such as obstetric fistula, and as serious as cervical cancer. Instead, they suffer quietly, limited by a lack of information, inadequate accessibility to trained doctors and a proper healthcare facility, and social stigma. Our sisters and mothers feel alone, unsure of where to turn and what they can do.  
How will the Women's and Neonatal Surgical Hospital improve healthcare for women in Afghanistan?  
The Women's and Neonatal Surgical Hospital will be equipped with top-of-the-line medical equipment and trained medical staff to aid in childbirth and any potential complications which might present during the process of labor and delivery.  It will also provide the most advanced levels of Surgical, Maternal, Pediatric and Cancer treatment available in Afghanistan and will have five specialist healthcare centers:  
Women's Surgical Theater

, 

with a special focus on fistula treatment and recovery 

 

 

Pediatric Audiology Clinic 

 

Pediatric Burn Reconstruction Unit 

 

Endoscopy Clinic 

 

Women's Cancer Clinic 
What are you personally most excited about in regard to the completion of the hospital?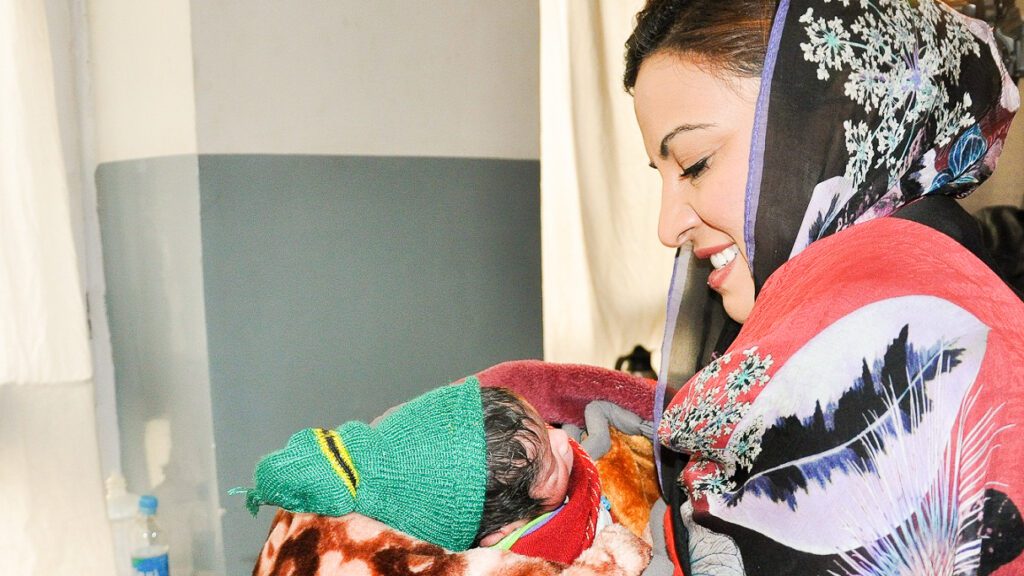 As a mother myself, I cannot imagine experiencing going through childbirth without the medical assistance and comfort which we are blessed with here in the United States. The proposed hospital will be able to prevent some of the anxieties and fears of the unknown which many Afghan women face when approaching childbirth.   
Many of us in developed countries have grown accustomed to the availability and ease with which healthcare facilities are able to monitor our pregnancies and safely address any complications. This comfort of knowing is something that many of us take for granted, but the same would be a luxury for the women of Afghanistan. I am excited to play a small part in being able to make childbirth, female health, and maternal recovery in Afghanistan of a quality that will become a source of relief and comfort to our Afghan mothers and sisters.   
What would you like to say to those who are considering donating to help provide these women and children with the healthcare they deserve?  
As we continue to gather support for our hospital, we want to remind others of the integral role that maternal health plays in our community and to reduce the stigma associated with these conditions. We want to provide our fellow Afghan sisters and children with the most up-to-date and effective treatment, to break the barriers and address the silent suffering which has affected too many. We want to help these women feel what it is like to be happy again! We want to help our sisters blossom back to health so that like flowers, they can once again spread happiness to those around them.    
You can learn more about the Women's and Neonatal Surgical Hospital and the upcoming telethon here. Let the women and children throughout Afghanistan know they matter with your financial support.  
Also consider helping MATTER continue our mission in Afghanistan and the eighteen other countries we work in by joining us for an unforgettable benefit concert at Rock The Lake on August 29, 2020.