From the unique venue of the Sun Country Airlines Cargo Hangar, Smack Shack's famous lobster rolls, and a virtual reality experience, to Darius Rucker breaking it down to  Blackstreet's 'No Diggity', the 16th Annual 'A Night to Matter' Gala was certainly an evening to remember.
A contagious energy of celebration danced to the rumble of the tarmac, as guests enjoyed signature cocktails and one-of-a-kind culinary creations by CRAVE. While perusing unique silent auction items, guests passed through a repurposed shipping container experiencing a virtual reality tour of Matter's international work in Somalia and Dandora.
With a Sun Country 737 Aircraft set at center stage, the familiar voice of the Minnesota Vikings, Paul Allen, welcomed guests to find their seats and prepare to take flight for the evening's program. This year, we honored 4 partners  for their pivotal role in expanding access to health next door and around the world.
2016 Matter Award Recipients 
2016 Matter Humanitarian Honoree, Jill Tabit NEWdawn Africa
2016 Matter Ambassador Honoree, Gene Simmons.
The evening was filled with inspirational stories of hope, health, and celebration. Minnesota Vikings, COO Kevin Warren challenged guests to join the Minnesota Vikings in partnership with Matter, to make an impact in our local community. Moving the hangar to a standing ovation, Minnesota Timberwolves Center, Gorgui Dieng, shared his heart for expanding access to health and opportunity for his home country. Gorgui shared the progress and continued work in the next phase of The Gorgui Dieng Project: Senegal.
Founder of The Starkey Hearing Foundation, Tani Austin, spoke about the power and importance of strong partnerships between organizations working to elevate the lives of others around the world. Guests were moved to tears as Jill Tabit, shared the story of the first patient seen at the Dandora clinic. Baby Moses, just days old, was found wrapped in a paper bag amidst the Dandora garbage dump. Moses is now healthy and thriving.
The evening's final honoree, Gene Simmons, spoke with tear-filled eyes of the deep love and respect he has for his mother. Reminding us that each of our mothers can be the inspiration for the way we love, why we give, and that we all have the power to save the lives of children around the world.
In response to Gene's powerful call to make a difference;
A Night to Matter shattered fundraising records, raising over $1.5 Million!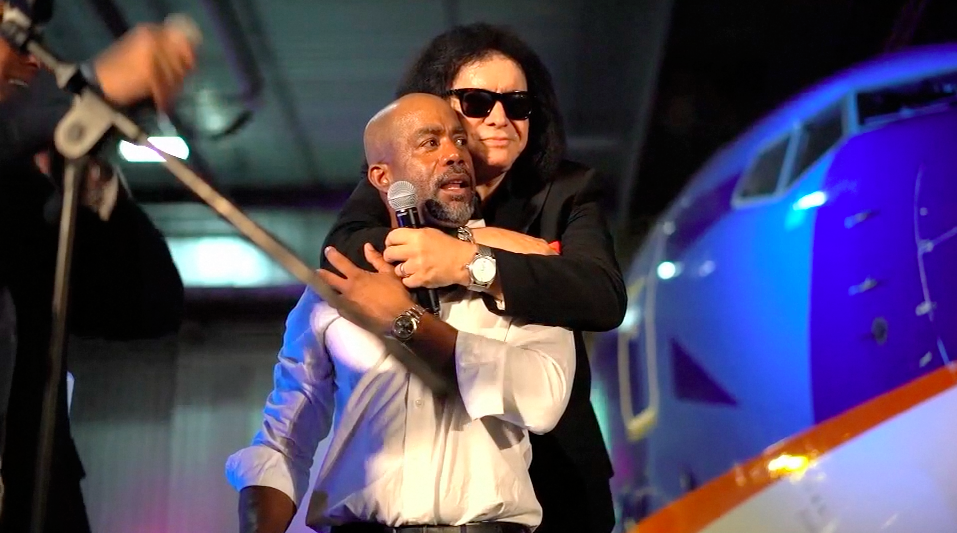 After an inspiring program, Darius Rucker took the stage, kickin' the celebration into high gear! Hundreds of voices filled the hangar as Darius brought us back to the 90's with some Hootie & the Blowfish classics and performed his Grammy Award-winning country song, 'Wagon Wheel'.  The night concluded with a once-in-a-lifetime chance to sing with Gene & Darius to America's original party anthem 'I Wanna Rock & Roll All Night'. Guests flooded to stage and bid for a chance to share the mic with Gene & Darius and show off their dance moves to elevate the health and lives of families next door and around the world.
Our 16th Annual 'A Night to Matter' Gala was a smashing success! A very special thank you to Sun Country Airlines, Darius Rucker, Gene Simmons, The Minnesota Vikings, The Starkey Hearing Foundation, Jill Tabit  Muffy MacMillan, Paul Allen, and all of our individual and corporate sponsors for making the evening, truly,  A Night to MATTER.
---
Relive & share memorable moments from #Night2Matter