CALLING ALL MINNESOTA KID CHEFS!
#MATTERboxKIDchef
MATTER is searching for the next MATTERbox KIDchef! Could it be you?
Are you a Minnesota kid between the ages of 5 – 15 years old that likes to get creative in the kitchen? Then we have the perfect cooking challenge for you!
Take on MATTERbox KIDchef Challenge by following the contest guidelines to create a delicious (… and nutritious) recipe of your very own! Then take a video of you whipping up your culinary masterpiece. Finally, submit your video to MATTER to be entered to win!
The MATTERbox KIDchef Challenge Champion will get to cook their winning recipe on Twin Cities Live on June 8th! Plus the MATTERbox KIDchef will receive 4 all-access passes to Mall of America's Nickelodeon Universe!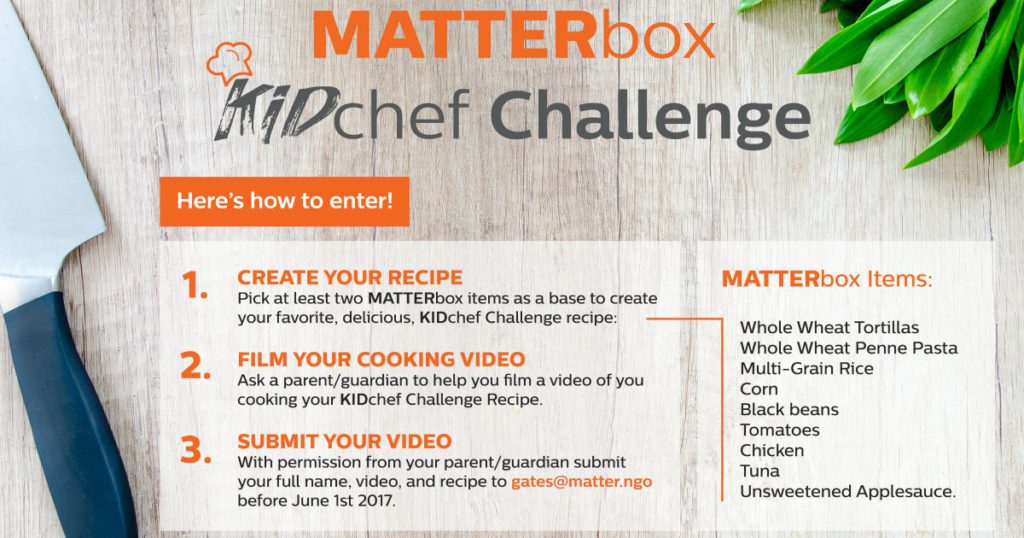 HOW TO ENTER & WIN!
1. CREATE YOUR RECIPE
Pick at 2 of the MATTERbox items to use as the base to create your favorite nutritious & delicious KIDchef recipe!
Whole Wheat Tortillas
Whole Wheat Penne Pasta
Multi-Grain Rice
Corn
Black beans
Chicken
Tuna
Unsweetened Apple Sauce
2. FILM YOUR COOKING VIDEO
Once you have created your recipe. It's time to make your video. Ask a parent/guardian to help you film your MATTERbox KIDchef Video of you whipping up the MATTERbox Challenge recipe you've created in your kitchen.
3. SUBMIT YOUR VIDEO
With permission from your parent/guardian submit your full name, video, and recipe to gates@matter.ngo before June 1st 2017.
HOW WILL THE VIDEO BE JUDGED?
All videos submitted to gates@matter.ngo will be reviewed and judged based on 3 main categories.
Creativity – Is your recipe original? What unique flair did you add to a common recipe?
Recipe – At least 2 or more of the MATTERbox foods incorporated into your recipe.
Humor/Originality – Is your video funny, do you engage the camera as you are explaining what you are cooking?
WHAT DO YOU WIN?
The opportunity to cook your winning MATTERbox Challenge recipe on Twin Cities Live TV Show on (June 8th).
4 All-Access passes to Nickelodeon Universe.
The winning recipe will be featured inside every single MATTERbox.
CONTEST SUBMISSION GUIDELINES
Kids must be between the ages of 5 – 15 and have their MATTERbox KIDchef Challenge video, recipe and full named submitted by 6/01/17 by 11:59PM. In addition, the contest winner plus 1 parent/guardian must be available on June 8th from 2:00– 4:00PM for the Live taping of the Twin Cities Live at the KSTP studios.
For any questions or more information please contact gates@matter.ngo.