Amplify Matter's mission in your community to make an even bigger impact.
Join a global community of people who believe in a world where every single person can live a full and healthy life.
Give a MATTERbox
Take the Matter mission to the streets, by giving a MATTERbox to an individual, family, or organization in need.
Start a teamMATTER Campaign
Run a marathon, have a lemonade stand, instead of gifts make your birthday Matter, the opportunities are endless! Take life's milestones & start making them Matter today!
#teamMATTER Social Ambassador
The best way to tell a story & make an impact is to share it, with beautiful pictures! Amplify Matter's mission on your social networks to make an even bigger impact around the globe!
Need ideas? Check out creative ways #teamMATTER is making a difference in your community.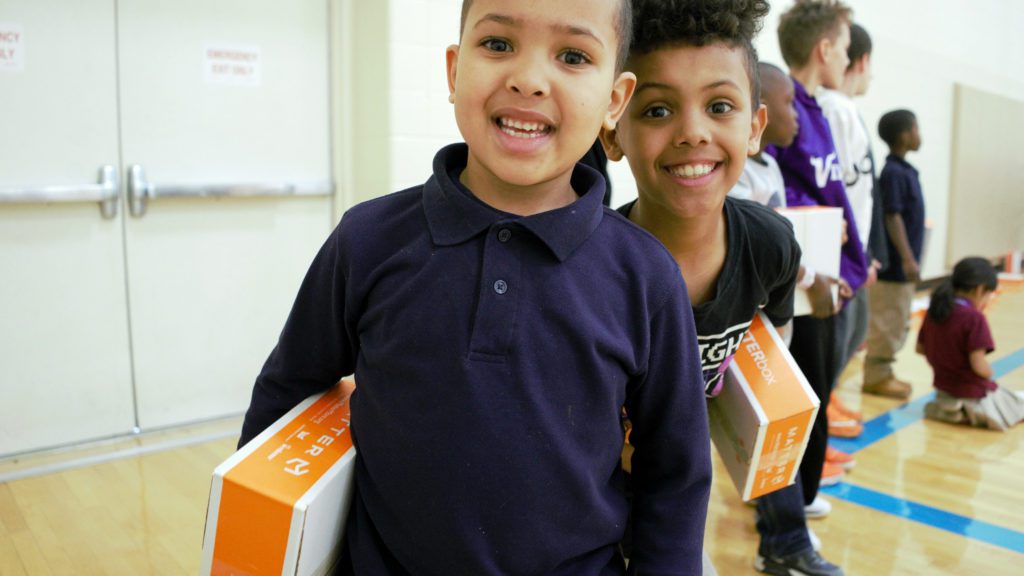 MATTER is always looking for new and exciting ways to engage kids with the power of healthy eating. This week, we were lucky enough to visit Meadowbrook Collaborative and see what the kids that attend their summer program think of potential […]
SEP 21 | The Children Matter: Benefit Concert with Gene Simmons Band
September 21, 2017
7:00 pm – 11:00 pm
Doors open at 5:00 pm
The Children Matter is a collaborative initiative founded by Gene Simmons & MATTER with the simple belief that the lives of children matter.
Medicine and healthcare have seen exponential improvements over the past few decades, making it possible to treat patients more effectively than ever before. However, in many corners of the globe, the technology that makes this level of care possible is scarce. Joining forces with Food for the Poor and […]
"It's been the best thing that I ever could have done with my life." Spoken softly and sincerely, Teresa makes it instantly clear that her 40-year career in medicine has been so much more than a job.
Splitting her time between nursing at the University of Minnesota Masonic Children's Hospital, visiting […]
MATTER is always searching for new ways to empower youth and show them just how much they MATTER. So when the opportunity to partner with The Minnesota Vikings and EMPOWER Leadership Academy for Girls at one of their summer day camps this past weekend, we were beyond excited!
Throughout the day, a […]
On the morning of June 8th, before the sun had even thought about rising, volunteers were hard at work in the otherwise-empty Mall of America. Only one thing can explain why anyone would crawl out of bed hours before the doors of Starbucks open: passion. Fueled by passion and hosted […]
Join Minnesota Vikings Cornerback Xavier Rhodes at US Bank Stadium on June 23rd for a InSports Football Camp + MATTERbox Challenge!
Campers get hands-on instruction alongside Xavier Rhodes, with fundamental football skills & drills stations, contests, and non-contact games in a high-energy, fun, and positive environment. Campers will […]
Every 3rd Thursday of the month is backpack delivery day for the Students at Stonebridge Global School.
With a staggering 97% of students eligible for the free/reduced lunch program,  HOPEworldwide's MN Chapter has partnered with Stonebridge to not only get meals to the students but activate healthier […]
LA rolled out the red carpet again for the second annual The Children Matter event presented by Gene Simmons.
The Children Matter is a collaborative initiative between Gene Simmons, Matter, and the Starkey Hearing Foundation, to elevate access to health of disadvantaged children around the world through the gift of hearing, […]
Loaded to the brim with bright orange MATTERboxes, the MATTER truck headed to Morris, Minnesota for the Vikings Town Takeover InSports football camp on May 3! Hosted at Big Cat Stadium, former Viking EJ Henderson and the Morris Varsity football team led over 300 kids between 5-13 years old in […]