At MATTER, we believe you don't need to be a charity to change the world. When individuals and companies come together to pool their energy and resources for a cause greater than themselves amazing things happen that can change the world for those being impacted.
For proof, look no further than what happened on May 30th at the Mall of America. Hundreds of individuals and volunteers, along with some of the best companies in the Twin Cities, all came together for the cause of feeding hungry kids this summer. The result? About 9,000 MATTERbox snack packs were packed the day of the event and funds were raised for approximately 300,000 meals for kids this summer!
This annual event is a collaborative effort between MATTER, 5 Eyewitness News Summer Harvest for Kids and The Food Group to provide healthy food for kids who are on free or reduced lunch during the school year, and miss meals during the summer months. While this may not sound like a world-changing endeavor, to the kids who will now have access to healthy food this summer, it definitely changes their world!
One of the many volunteers who helped make the event such a success was Beverly Wadsworth. Beverly's love for the cause of kids and nutrition was obvious as she greeted the public who came to pack with the KSTP personalities throughout the day. Her warm smile and engaging personality drew people in to pack or write You MATTER notes of encouragement to the kids receiving the snack packs.
"I love being able to give my time to help support important causes like this. And I love how this event brings in the community. You've got some high profile people who bring visibility and awareness, and then the fun factor for corporations is so innovative. I love it!"
That "fun factor" for corporations is the competitive packing tournament we call MATTERbox Madness. Companies go head-to-head in bracket-style competition to see who can pack snack packs the fastest. This friendly but fierce competition is a big part of the allure that attracts companies to participate.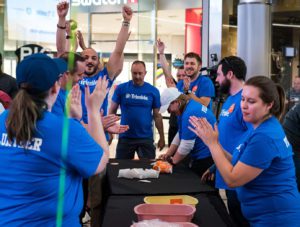 For third place winners, Trimble, the competition is definitely a big draw. Said one of their team members, "We are so competitive and MATTER does such a phenomenal job in making a volunteering event that benefits the community into a game which allows our inner child to come out and play!"
For the 2019 MATTERbox Madness Champions, InSports Foundation, the win was especially meaningful. During the summer months, InSport runs sporting camps and clinics for schools throughout the Twin Cities and distributes MATTERbox snack packs to their campers, 93% of whom are on free or reduced lunch during the school year. One of the team members shared her experience giving out the snack packs to their kids.
"It's a great experience. The kids love getting the snack packs and we love that they're getting healthy food. And some of this food, the kids have never seen before. Today, it was great to be on the other end and help pack them. It was a lot of fun!"
Celebrating with the teams after MATTERbox Madness, volunteer Ginny Schmidt couldn't help but share her enthusiasm for how easy it was to be part of the effort.
"It was super fun! It didn't even feel like volunteering. Everyone that works for MATTER was so open and encouraging to us volunteers. It's easy to feel like you can join in and make a difference."
Yes, you can make a difference! Come join MATTER as a volunteer, as a Company that MATTERS, as a donor, or as a community partner, and see amazing things happen as we change the world for kids and families here in Minnesota, throughout the United States, and around the globe!